Poker Style Poker Chair for Poker Game
Are you a poker or casino fan?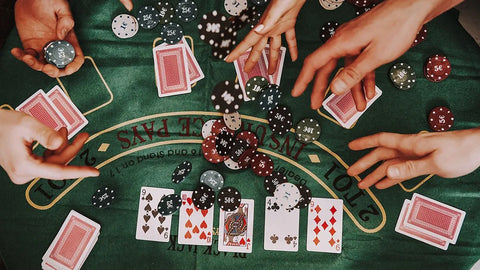 What better way to proclaim your love for the game than adding a poker accent chair to your living quarters? A fancy-looking chair in the same design as card suits used in poker is a fantastic way to spark an interesting conversation and, of course, transform your personal space into a casino-like atmosphere. 
Armless poker chairs are one of the most common on the market and for a good reason. You can use the poker design chairs as casino chairs or at your dining table or in the game room.
But before we get into the poker chair designs, let's look at how the crowd-favorite poker game originated. 
Origin of poker 
The origin of poker is somewhat of a mystery.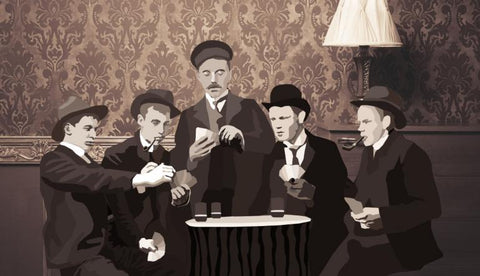 Poker is thought to have originated in the 10th-century from the domino card game Mahjong, which an Emperor played. Historians also say that poker traces its origin to a Persian game of As Nas during the 16th century. Around the same time, the Spanish also developed a card game called Primero, which was very similar to the Chinese domino game. 
However, others also point to the European game of Poque, which was very popular in France during the 17th century. Some historians also believe that Pochen, a German game, also greatly influenced modern-day poker. Indians also played a game called Ganjapha with cards made of palm leaves. 
Gradually, the Italian and Middle East merchants brought variations of poker games to the Americas. Poker emerged as a hybrid of Poque, Brag, and other card games in the 1800s.  
In the US, poker became a popular pastime in the regional saloons of New Orleans, especially in the casino water boats along the Mississippi River. When poker came to the US shores, it was considered illegal because it was a magnet for criminal activity and rampant gambling. 
Regardless of its origins, poker is an insanely popular game in online as well as brick-and-mortar casinos. Originally, poker was played with 20 cards, but in the mid-1800s, it was expanded to 52 cards, which is popular today. If you're not familiar with poker and what the suit of playing cards means, here's a crash course. 
Suits of playing cards in poker 
Poker has several variations, but a standard game is played with 52 cards, and they are split into four types called suits. The suit of cards in poker is namely: 

♠ Spades
♦ Diamonds
♣ Clubs
♥ Hearts
In pop culture, poker suits represent human energy and society. Diamonds symbolize business, and clubs represent achievement and strength; spades stand for the warrior class, while hearts represent the clergy and the human struggle for inner peace. 
Spades have the highest ranks in traditional card games, and clubs have the lowest. However, the suits do not follow the traditional ranks in poker games. Instead, the cards are ranked from Ace, King, Queen, and Jack to the lowest number, i.e., 2. Ace in poker is usually high or low. 
In addition, a suit in poker is only relevant for making hand rankings, which are royal flush, straight flush, 4 of a kind, and flush, etc. In poker, the term suited applies when all the cards are of the same suit – all hearts, all spades, all diamonds, and all clubs. 
The basic rules of poker usually apply to popular variations of poker, such as Texas Hold 'em poker. However, other poker variations might have slightly different rules, including the meaning of suits. 
Fun Fact: The value of 52 cards adds up to 365 - the total number of days in a typical year. 
Best poker chairs
Poker table chairs and casino stools are available on the market, and you can easily find them for a casino-themed party. But finding good quality poker game chairs can be a challenge. 
If you're looking for poker game chairs or something similar, you should check out this one from Cocochairs.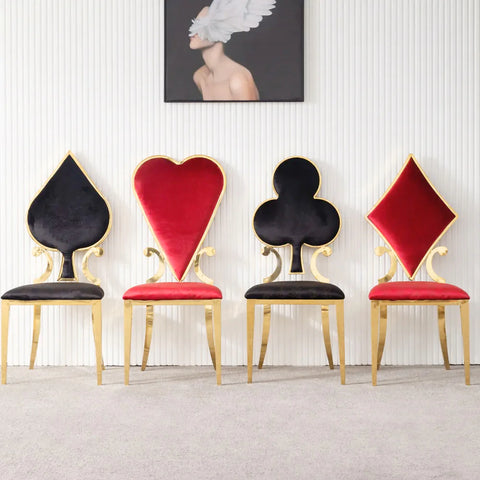 The frame of this chair is solid stainless steel with gold plating, which gives it an elegant look. The subtly curved silhouette of the chair also gives it a fancy appearance making it suitable for every home. The stainless steel material, along with the robust construction of this beautiful chair, ensures that it will be a champion in terms of longevity. 
The backrest of this chair is designed in the shape of a diamond, spade, club, and heart, which look very striking. You will also love the rich velvet upholstery in black and red that blends seamlessly with the gold metal components. If you're curious about this chair's padding, it is filled with foam making it very comfortable and soft. 
This chair is also an armless design, meaning you can use the chairs for a poker table or a dining table. Besides, the legs of this chair are also high, making it a great chair for a game table if you want to have a casino-themed party.
This is also a fantastic pick for poker room chairs as it combines the best of design, upholstery, and comfort. The metal frame keeps it strong and reliable, while the velvet fabric and the upholstery give it a luxuriant feel that you and your guests will love. 
Wrapping up 
Accent chairs in poker designs are a fantastic addition to spice up your gaming room. Everything from the upholstery to the chair's design is a good combination of comfort and style. 
But the backrest in the shape of card suits in poker is fantastic and makes it a collector's item if you love poker and the casino culture. Despite the standout designs, the poker-style chair is suitable for all types of interior décor, and you will love bringing it home with you.